Introduction
United Universe is a second screen experience for watching films and television shows from the Marvel Cinematic Universe. As Marvel films continue to expand into more plots and subplots, it is increasingly difficult to keep track of all the elements in the storyworld. United Universe is a way to bring clarity to the significant people, items, events, and locations that exist across. Although the prototype was made for the MCU, it was designed to be extensible to other storyworlds.
Users and Focus
We embarked on this project by asking the following questions:
How do we provide a comprehensive introduction to a new storyworld?
What are the common components of these storyworlds?
What kind of connections would viewers be interested in making?
Design
United Universe is intended to be a second screen application. Viewers can use this on a tablet device to provide contextual information related the scene taking place on the television.

Blips appearing on the TV and the second screen
Blips
Our research showed us that there are four main elements important to any storyworld: people, places, items and events. We decided to call these 'blips' These color-coded blips appear on the viewer's TV screen each time a character, place, item or event is displayed. These provide the viewer with a visual cue to check the second screen if they wish to explore the blip further.
Timeline
The timeline of all the blips can be seen at the bottom of both the TV and the tablet. Viewers can go back and explore the timeline at their convenience. On selecting a blip, the viewer can get a quick introduction about it.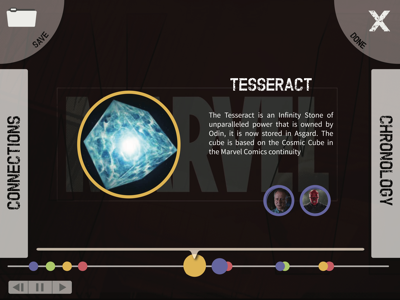 Exploration of the timeline
Connections
When a blip is dragged into the 'Connections' view, all the blips associated with can be seen. This helps to remind viewers of existing connections and allows to explore these connections and interpret them.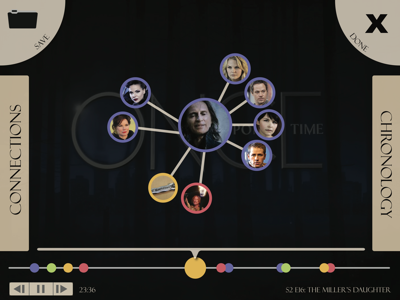 Connections between characters
Conclusion
With the increasing popularity of complex storyworlds such as Game of Thrones and the expansion of older worlds like Star Wars, there is an demand to curate this content into an easy digestible format. The United Universe prototype is a way of exploring the design issues related to densely interconnected narrative worlds in a contextual manner. This prototype can support the representation of elements in a consistent manner across any storyworld.
Demo